I read a comment today that Storage Spaces was great for small/medium deployments. And yup, it is. I use Storage Spaces to store my invaluable photo library at home (a pair of Toshiba USB 3.0 3 TB drives). At work, we use a single DataOn Storage DNS-1640 24 x slot JBOD that is dual SAS attached to a pair of 2U servers to create an economical Hyper-V cluster. And we have sold 2U DataOn Storage CiB-9220 "Cluster in a Box" units for similar deployments in SMEs.
But most of our sales of JBODs have actually been for larger deployments. Let me give you an example of scalability using an image from my software-defined storage slide decks:
In the above diagram there are 4 x DataOn Storage DNS-1660 JBODs. Each has 60 x 3.5" disk slots. Using 6 TB drives (recently certified by DataOn) that gives you up to 1440 TB or just over 1.4 petabytes of raw storage. That's with 7200 RPM drives and that just won't do. We can mix in some dual chanel SAS SSDs (using 3.5 to 2.5 adapters) to offer peak performance (read and write).
In the above design there are 4 SOFS cluster nodes, each having 2 x direct SAS connections to each JBOD – 4 JBODs therefore 8 SAS connections in each server. Remember that each SAS cable has 4 SAS ports. So a 6 Gb SAS cable actually offers 24 Gbps of throughput.
Tip from DataOn: If you're using more than 48 drives then opt for 12 Gb SAS cards, even if your JBOD runs at 6 Gb; the higher spec cards circuitry performs better even with the lower speed SAS disks/JBODs.
Now this is where you say that this is all great in theory but surely no one is doing this. And there you would be wrong. Very wrong. MVP Carsten Rachfahl has been deploying large installations since late 201 in Germany. The same is also true of MVPs Thomas Maurer and Michael Rüefli in Switzerland. At my job, we've been selling quite a few JBODs. In fact, most of those have been to replace more expensive SAN installations from legacy vendors. This week I took this photo of the JBODs in the above architecture while they were passing through our warehouse: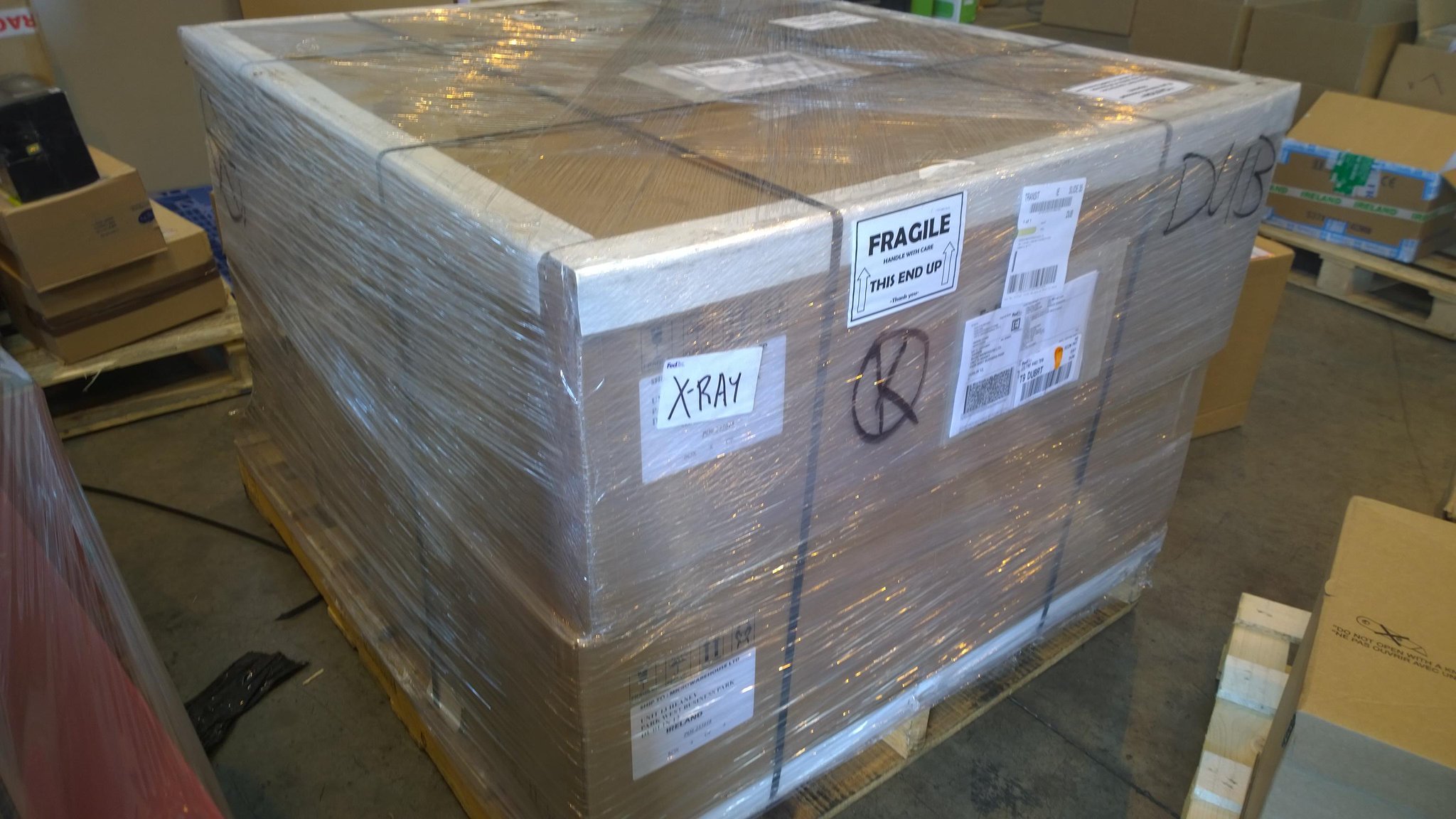 Yup, that's potentially over 1 PB of raw storage in 16U of rack space sitting on one shipping pallet. The new owner of that equipment is building a SAS solution that will run on Hyper-V and use SMB 3.0 storage. They'll scale out bigger and cheaper than they would have done with their incumbent legacy storage vendor – and that's why they're planning on buying much more of this kind of storage.
Please follow and like us: