It's with some sadness that I have to report that I am no longer a Hyper-V MVP.
11 years ago, I got and email to say that I had been awarded MVP status … in System Center Configuration Manager. Yes, I used to do a lot of stuff on ConfigMgr. But by the time I'd been awarded, that had all stopped and I had refocused on server stuff, particularly virtualization and especially Hyper-V. A year later, my expertise was changed to that of Hyper-V, which later merged into a larger grouping of Cloud & Datacenter Management.
Being a Hyper-V MVP changed my career. I had early access to information and I was able to pose questions about things to my fellow MVPs and the program managers of Hyper-V, Failover Clustering, networking, and Windows Server storage. I learned an incredible amount, and the many posts on this site and my books all had input from my time as an MVP. Job openings appeared because of the knowledge I obtained, and I got to write for Petri.com. And being an MVP opened up speaking opportunities at many events around the world, including TechEd Europe and the very first Ignite.
There's so many people to thank from over the years. I won't name names because I'll offend someone  because I'll surely forget someone. My (ex-)fellow Hyper-V MVPs are an awesome bunch. We all found are niche areas and I can remember many times we'd meet at a user group event and pool our knowledge to make each other better. In particular, I remember speaking at an event in Barcelona during the build-up to WS2012 and spending hours in a meeting room, going over things that we'd learned in that dizzyingly huge release.
I want to thank the Program Managers in Windows Server, Hyper-V, Failover Clustering & Storage, and Networking for the many hours of deep dive sessions, the answers they've given, the time they've taken to explain, the tips given, and the opportunity to contribute. Yes, I got a lot out of being a Hyper-V MVP, and I love looking at the feature list and thinking to myself, "me and <person X> were the ones that asked for that". The PMs are a patient bunch … they have to be to deal with the likes of me … but they're the ones that make the MVP program work. I'd love to tell stories, but you know … NDAs
I knew that this day when I'd stop being a Hyper-V MVP was coming. Actually, that suspicion started back in the WS2012 era when I saw where MS was going with Hyper-V. The product was evolving for a market that is very small in Ireland. I knew I had to change, and that was triggered when Microsoft Ireland came to our office at work, and asked us to help develop the Azure business with Microsoft Partners. 4.5 years ago, I made the change, and I started to work with the largest Hyper-V clusters around.
Last year I was made a dual-expertise MVP with Azure being added. I work nearly 100% on Azure, and I have always written about what I work with. Anytime I find a solution, or learn something cool (that I can talk about) I write about it. I was re-awarded yesterday as an Azure MVP, but my Cloud & Datacenter Management expertise was dropped. I expected it because I simply had not earned the privilege over the last year to be re-awarded. I have a full and happy family life and I don't have enough time to give a dual-expertise status what I think it deserves from me. I was not surprised, but I was a bit sad because being a Hyper-V MVP was a career changer for me and I made lots of great friends.
For those of you who are new to the program or who want to get involved in being an MVP, I have some advice: Make the most of it. The opportunity is awesome but you only get from it what you put in. Take part, learn, contribute, and share. It's a virtuous cycle, and the more you do, the more you get out from it.
Being a part of the community hasn't ended for me. I'll still be writing and speaking about Azure. In fact, my employers are running a big community event on October 17th in Dublin (details to come soon) on Azure, Windows Server 2019, and more. And who knows … maybe I'll still write some about Hyper-V every now and then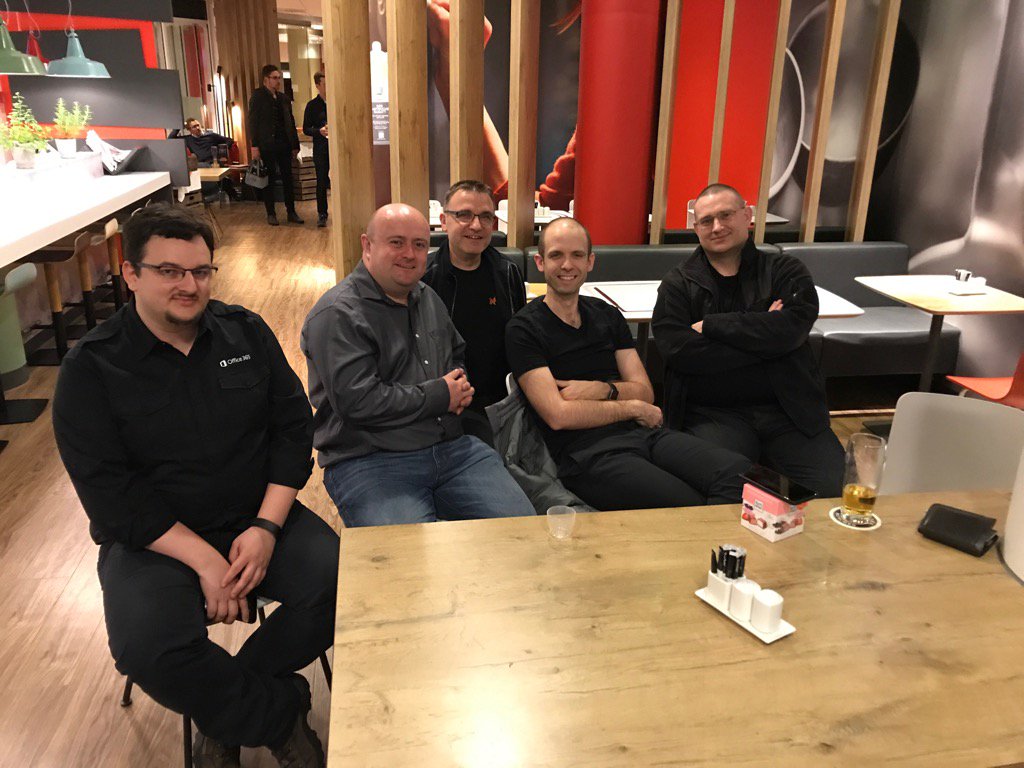 Left to right: Tudor Damian, me, Carsten Rachfahl, Ben Armstrong (Hyper-V), Didier Van Hoye – Hyper-V MVPs with Ben at Cloud & Datacenter Conference Germany 2017.