Microsoft just announced a bunch of new peripherals, including the new Arc Touch Bluetooth Mouse. I still have the original Arc mouse, which I've loved for the many years that I've had it. In case you don't know – I really like Microsoft's mice and keyboards, especially their substantial mice for desktop computers.
I just picked up the new Arc Touch mouse that is Bluetooth (4.0 low power) capable (working for a distributor has it's benefits!). The fold-to-flat award-winning design is a space saver. It auto powers off the mouse, powered by 2 x AAA batteries. And it's light. It paired straight away with my Windows 8.1 Toshiba KIRAbook, and the touch strip works nicely with the touch interface in Windows – there's also a slightly audible scrolling noise to simulate a wheel movement with physical feedback. It's working well on a wooden desk with no mouse mat.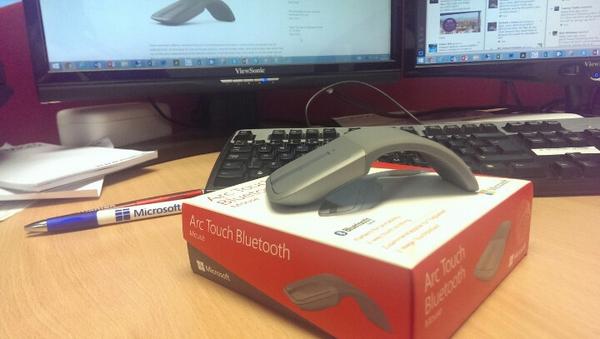 Hopefully this new Arc mouse will last me as long as the last one has!