The second generation of Surface has gone live.  Surface RT becomes Surface 2 (Windows RT 8.1) and Surface Pro is Surface Pro 2 (Windows 8.1 Pro).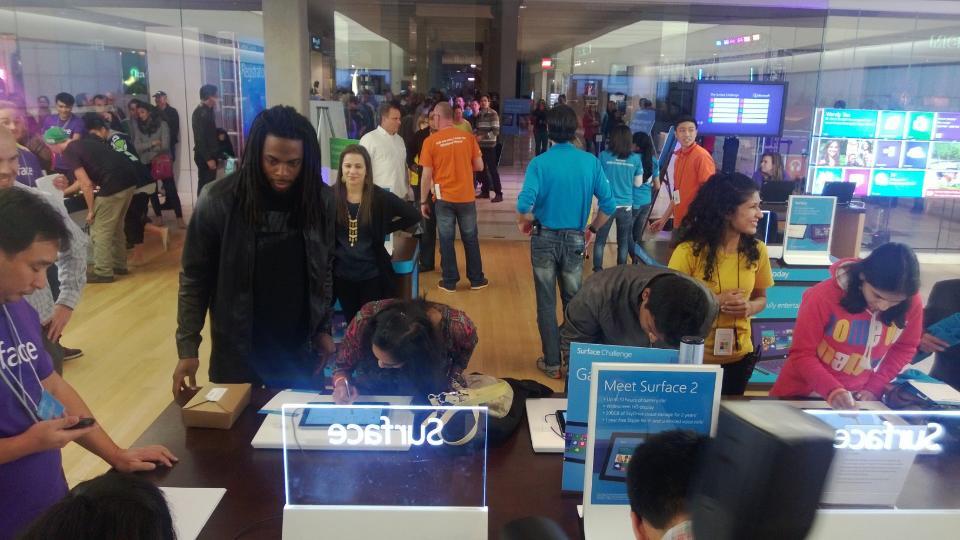 Apparently, Seattle Seahawks ace cornerback, Richard Sherman, wants one. This is him in the Bellevue WA Microsoft Store.  Now I must buy an iPad in revenge!!!
The various Microsoft online stores have updated their range.  Some of the talked about accessories such as the power cover aren't out until next year.  And the rumoured Surface Mini might not be out until late Spring.
At least distribution is better than it was a year ago.  Yes, the Microsoft brick'n'mortar stores (US only) and online stores (international) are selling the Surface.  A few direct-distribution chains such as BestBuy and PC World (DSG) have rights (though I don't know if they have the 2 today).  And 5 of the mega-distributors have rights (also don't know if they have the 2 today).  Sadly, the distributors who have lots of reach in local markets do not have distribution of Surface yet.
This morning (writing this early AM) will also see the launch of the Nokia Windows RT "Sirius" tablet, which I find more interesting than Surface 2, based purely on leaked info.  The presence of cellular (which adds to the cost) makes it more interesting for business uses, I think.
However, the newswires are already filled with iPad-mania.  Apple timed their next-gen launch to crush Microsoft and Nokia.  And it's working based on what I'm hearing on the radio so far this morning.