In this post, I'll explain how to fix the following errors when you attempt to replicate an Azure virtual machine from one Azure Region to another:
Error 151072: Connection cannot be established to Azure Site Recovery service endpoints.
And:
Error 539: The requested action couldn't be performed by the 'A2A' Replication Provider.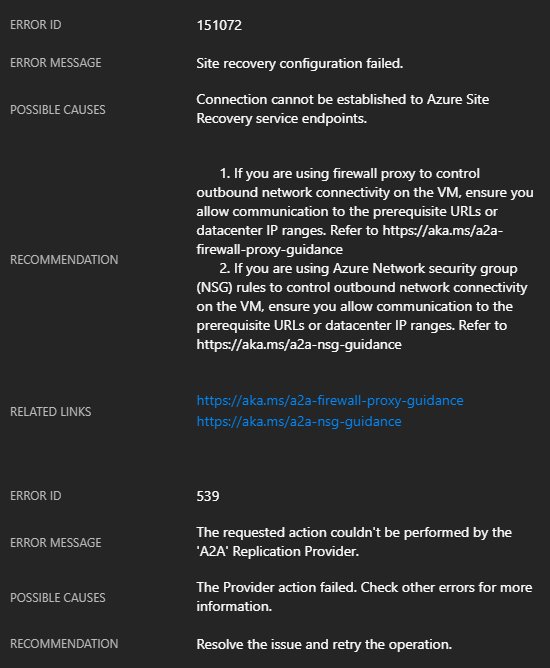 The Cause
A2ASR (the abbreviation of the ASR service for Azure VMs) uses an extension (guest OS agent) called the Mobility Service to migrate disk contents from a source virtual machine to a target (secondary) region (or DR site). The Mobility Service is using the networking of the virtual machine to talk the ASR endpoints in the secondary region. That traffic is therefore going over the NIC and virtual network of the VM, and then to the target region via the Azure backbone.
if you have restricted outbound traffic for your virtual machines, then you might have blocked this traffic:
Third party firewall appliances
Using Network Security Groups (NSGs), as I documented here
The Fix
Woops! Don't worry, you've already created exceptions to allow your virtual machine to boot up. You can create more exceptions to allow the virtual machines to talk to the ASR endpoints (see the below screenshot). Let's imagine that I am replicating from North Europe to West Europe.
I'll need at least one set of rules, enabling outbound traffic from my VNet/NICs in the source region, North Europe, to the two IP addresses of the target region, West Europe.
I will also have to enable inbound traffic from my target region, West Europe, to my destination region, North Europe. Why? Isn't all my traffic going from North Europe to West Europe? That's true – now. But if you failover to West Europe, you will need to reverse replication afterwards, so you might as well get things right now.
A Script
It all looks messy at first. It probably isn't too bad. But if you'd like to deploy a canned script to update NSGs, you can. Microsoft has shared a script that you can run. You will need a few pieces of information:
NSG name
NSG resource group name
Subscription ID
Source region
Target region
Run the script (it will prompt you to log in) from source to target, and then reverse the details, treating the target as the source, and vice versa with the NSG(s) in the DR site.
Where's the Service Tags?
Storage accounts and Azure SQL all have service accounts, but ASR does not. I believe that ASR should have service tags to avoid all of this IP messiness. If you agree, vote here, or forever stay quiet on the subject.
Was This Kind of Information Useful?
If you found this information useful, then imagine what 2 days of training might mean to you. I'm delivering a 2-day course in Amsterdam on April 19-20, teaching newbies and experienced Azure admins about Azure Infrastructure. There'll be lots of in-depth information, covering the foundations, best practices, troubleshooting, and advanced configurations. You can learn more here.