I just saw a picture that (Microsoft executive) Brad Anderson tweeted that was taken last Thursday at the IPExpo event in the UK.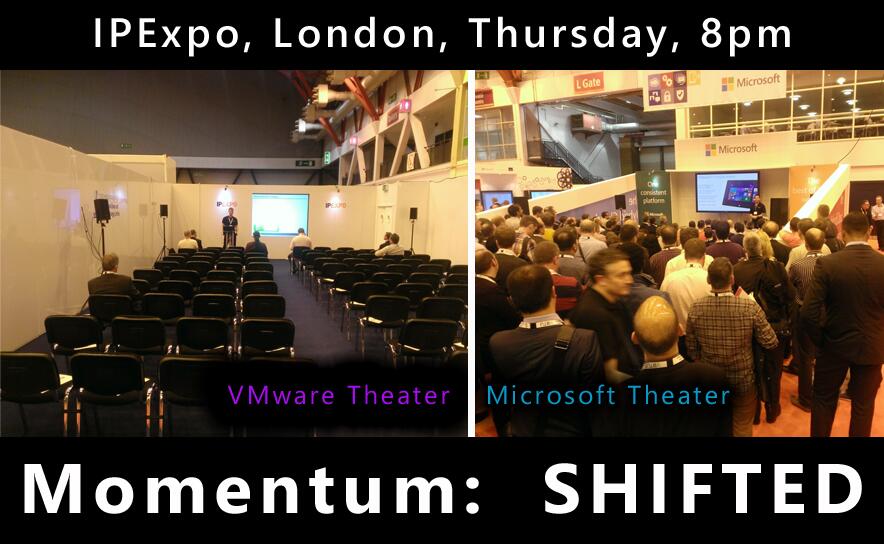 This is where a Tad fanboy will proclaim that no big company really uses Hyper-V.  Let me tell you of my experiences in the UK.
1 year ago I presented at the UK launch of WS2012 in London.  There were 1,000 people in the room.  Outside our MVP lead set up a couple of white boards for MVPs to answer what we thought might be one or two questions.  I personally had people from Fortune 500's (and I never name names in these scenarios) come up to me and say they now wanted to make the switch, and wanted to learn how.
Last month I spoke at an MVP event, again in London, and once again, large companies filled the room.  But what really caught my attention was one particular company.  This is a very successful and internationally renowned company that operates on the extreme edges of performance.  One could almost say they work in a life and death business where milliseconds are the difference between success and being out of business.  They use Hyper-V.
I'm not saying this has been easy.  The program managers, architects, developers and testers of the product, the Microsoft field staff, all have done amazing work.  Folks in the community, such as us MVPs, stood on stages in the early days and took abuse for 40-75 minutes while we told people what was coming.
Market share you say?  Yes, VMware still leads, but that lead is shrinking.  It's just a matter of time now.