I mentioned last week that I was using the Nikon Coolpix S9500 at TechEd NA 2013 – which the office kindly loaned to me for my recent travels.  I went with it instead of my usual DSLR kit because I wanted convenient.  And that it was … plus this 18.1 MP fits-in-your-pocket camera has a 22x optical zoom – the lens is like something out of Iron Man or Transformers, appearing out of nowhere.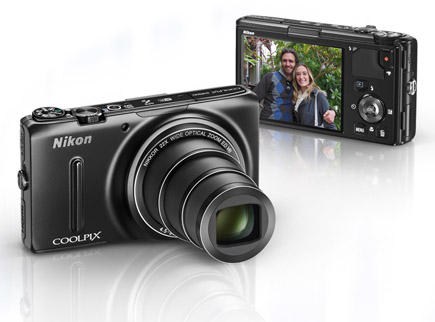 I spent my time working with the camera as … as camera.  It's has some other tricks like built-in GPS (for tagging locations) and Wi-Fi.  I wanted to take pictures.  And that's what I did last week.
On Saturday night I went to see The Who playing in the O2 in Dublin.  It was a great gig, and I also thought it would be a cool place to bring a camera.  Let's see how a compact would do in low light from the "cheap" seats.
Turning off the flash was easy – on-board strobes are useless with a range of more than a couple of feet so all they do is tick people off and waste battery.  The first challenge was to deal with the low light. I was getting blurry shots so I took control of ISO, starting at 1600, but found that 800 would do the trick.  Configuring ISO was easier than I expected on a camera with just a few buttons on it – everything was easily found in the menu system.  Then I discovered (I didn't have a manual – and it didn't matter because the controls were intuitive) that the Scene setting allowed me to instantly edit a photo in the camera.  I love high contrast B&W rock photos … here's one of the opening act, Vintage Trouble, at nearly full zoom.
Then on came the main event.  Quite honestly, The Who rocked.  I am not a big fan – I know the CSI themes and a few others, but those old dudes can still tear it up.  The matrix metering did a nice job at catching detail in the exposure:
What about full zoom and colour?  Here is a full 22x zoom with natural colour.  In these spotlight situations I switched from matrix metering to center metering to give the camera a shot at catching the highlights and leaving the shadows black.
Obviously the shots are not as sharp as a DSLR – that is why DSLR's and their big lenses are so expensive.  And I was hand-holding with my arms extended; I reckon the shots could be better on a tripod.  But the normal person who isn't mental like I am for photography should be dead happy with camera performance like this.  I'm not disappointed at all.
Note: The only Photoshop work done was to resize the images from a huge 18.1MP to a more web-friendly 500 x 375 pixels.  No color correction, sharpening, etc was done, other than what a camera does when it stores the digital capture as a JPEG.  The B&W conversions were done using a menu in the camera – I pre-selected "high contrast B&W" and pressed OK when the review shot appeared after taking it.
You can find the Nikon S9500 on: