I was at the E2E Virtualisation Conference over the weekend, and had a good time chatting with lots of folks including Ronnie Isherwood (@virtualfat), Jeff Wouters (@JeffWouters), Didier van Hoye (@workinghardinit), and Carsten Rachfahl (@hypervserver). 
Carsten was awarded MVP status in Virtual Machine (like myself) by Microsoft earlier this year.  He's a big contributor to the German (and English too) speaking community, tweeting, blogging, podcasting, and creating videos.
After my second session on CSV and backup design, Carsten asked if I would be willing to shoot a video interview on the subject.  Absolutely, and it just so happened we had a cool background with the London docklands at sunset – being an amateur photographer I was willing to shiver a little for nice light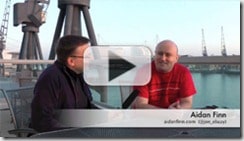 The video was posted this morning by Carsten.  He was a busy man; more videos were shot over the weekend with some of the others, and we even did a roundtable video where we talked about our favourite features of Windows 8.  Those videos will be posted in the coming weeks.